'Hommage aux 7', 2021
For the exhibition, Roméo Mivekannin draws us into the complex games and stakes involved in the representation of the black body throughout history. The artist uses a painting to revisit a photograph taken in 1930 and which shows Congolese soldiers paying homage to the seven: seven men, also Congolese, brought to Belgium by King Leopold II to be exhibited in his human zoo during the 1897 international exhibition. For Leopold II, the zoo was to embody Belgium's progressive ambitions and justify its presence in Congo through its civilizing mission.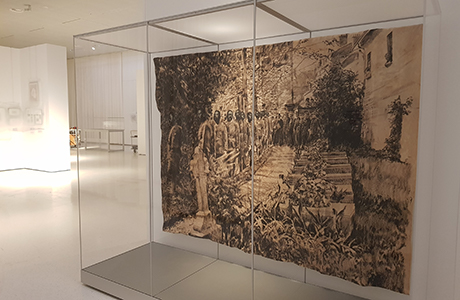 With Hommage aux 7, Mivekannin interrogates the observation and classification tools that are, respectively, the human zoo and photography as a medium. In their own way, these two tools immobilized the black body in a pose that the subject did not choose, an ideological pose that was produced by colonialism. In combining two histories, Mivekannin's painting is transformed into a mirroring device that shows us our own contradictions. What are we really looking at? An instant of Black history in the world, or the highlighting of systemic racist structures that continue to underpin our relationship with the Other? The mocking self-portrait of the artist atop each soldier's silhouette leaves little room for doubt: this time, our gaze is sent back in a hard unflinching stare.
Biography
Born in 1986 in Bouaké (Côte d'Ivoire), Roméo Mivekannin now lives and works between Toulouse (France) and Cotonou (Benin). After training in woodworking and studying art history, Mivekannin entered the École Nationale Supérieure d'Architecture de Toulouse. Alongside his studies, he developed a personal work of plastic creation, experimenting in several disciplines from sculpture to painting. Following his studies, he devoted himself to his artistic practice while starting a thesis called 'Afrique Postcoloniale et photographie contemporaine: espaces urbains / espaces invisibles' that lies between art history, sociology, and architecture. At the crossroads of inherited tradition and the contemporary world, Roméo Mivekannin integrates his creations within an ancestral temporality, crafting his own rituals that echo the voodoo cosmology that is omnipresent in Benin.
Mirroring an initiation rite, the artist dips the sheets that serve as the background of his works in a number of ritual potions, elixir baths, some of which had been buried around the world at sites with ties to the history of colonization. The sheets themselves are worn hand-me-downs and their own history blends with the temporalities evoked by the subjects of his paintings. Memory and time thus become the very matter of his work, their technique.
In the Barnum and Modèle noir series, using paint and elixir baths on free canvas, Roméo Mivekannin questions the place of Blacks in a Western iconography marked by the systems of human trafficking and domination that were embodied by slavery and colonization. By making use of photographs of 'human zoos', famous classical paintings, or iconic photographs showing the systemic injustices inflicted upon Blacks, and by depicting himself in his own compositions, the artists draws a direct line between past and present in a history of violence and injustice. Mivekannin's work was selected for the Dakar Biennale in 2020. He also participated in several group exhibitions in France, notably at the Chapelle de Villematier, the Art Paris Art Fair, the 1-54 Contemporary African Art Fair, and FIAC. His novel, La Malédiction des Orishas, was published in 2018 by Éditions Les Indés.